2016  IIHF U18 W
omen's World Championship
St. Catharines, Ont. – Jan. 8-15, 2016
Canada won its opening game at the 2016 IIHF U18 Women's World Championship, defeating Russia 5-2. The Canadians started the tournament off right and Niagara is on board with a single-game attendance record announced for the event, with 3,564 fans making their way out for the red-and-white's first tournament game.
Next game:
Canada will face off against the Czech Republic on Saturday, Jan. 9 at 7:30 p.m. ET (Meridian Centre, St. Catharines, Ont). Hockey Canada will honour Olympians and recent national women's program retirees Jayna Hefford, Gillian Apps, and Catherine Ward during a special event in the first intermission of the game.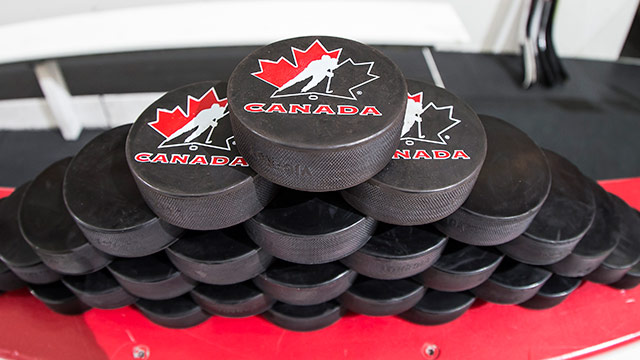 "I think it was a bit of excitement and nerves. What we really wanted to do was kind of take it all in and just calm down and refocus, and try and put our best foot forward. I thought we had a really strong 60 minutes, we took it period by period, and the first 10 minutes were really important for us to have a good start. I thought we carried the play through the three periods." Ryleigh Houston (Winnipeg, Man. / Balmoral Hall, JWHL)
"An awesome feeling just getting to go out there and playing the first 10 minutes. The atmosphere and the crowd were just an amazing feeling, one that I've never experienced before, and it will stick with me for a lifetime." Sophie Shirley (Saskatoon, Sask. / Notre Dame, JWHL)
"The level of competition continues to rise, and it's because the parity is there, and so there are no guarantees. Every time you step on the ice, it's important to play well and to your potential, or there would be upsets in this tournament. I think there's a possibility for Russia to beat us if we don't perform well." Lisa Haley, head coach (Westville, N.S./N.-É, Ryerson University)
All games are available via livestream at HockeyCanada.ca, with the exception of the gold-medal game, which will be broadcast on TSN and RDS, Hockey Canada's broadcast partners.
Canada's National Women's Under-18 Team has appeared in every gold medal game at the IIHF U18 Women's World Championship, winning four gold medals (2010, 2012, 2013, 2014) and four silver (2008, 2009, 2011, 2015).
For more information on the 2016 IIHF U18 Women's World Championship and Canada's National Women's Under-18 Team, please visit www.hockeycanada.ca, or follow through social media at www.facebook.com/hockeycanada,www.twitter.com/hockeycanada and www.twitter.com/hc_women.